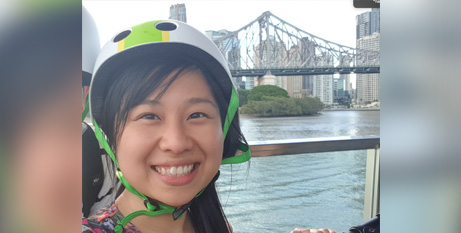 Melbourne's Natalia Teguhputri is preparing to take her knowledge and passion to Italy as one of 2000 young entrepreneurs, economists and change-makers attending the Economy of Francesco summit.
Miss Teguhputri, who was born in Indonesia and now works in finance, is deeply committed to various community development causes, including in the provision of clean water, sanitation and hygiene in developing countries.
She said the Economy of Francesco event, including a smaller gathering on the opening two days that she's been invited to attend, will be an opportunity for her to share some of her own experience, as well as gain wisdom from others.
"I hope to share about my experience building a social justice movement in a corporate world, to openly admit that, yes, profit is important, but sustainable profit is more so," she said.
"The sustainable way of doing business in today's world is to have social justice and the environment at its heart.
"I also hope to learn how others are finding applicable ways in their own context for a new inclusive economic model. I believe that commerce, faith and mission intersect well, so it is really our calling as practitioners – in my case as a cost analyst in the property development industry – to be finding real ways how our work can contribute to others' wellbeing."
Miss Teguhputri said while many aspects of Pope Francis' pontificate have been acclaimed and memorable, she sees economic wisdom in his teaching.
"We all share a common home, and so that means we can't really say the problem of other people are not ours too," she explained, citing a lesson from the Pope.
"We all have duty to help serve the common good in the local and global community."
Miss Teguhputri recently completed the Leadership for Mission course, a part-time, two-year program for young women that is a collaboration of the Australian Catholic Bishops Conference, Catholic Mission, Catholic Church Insurance and the Australian Catholic University.
She said it has helped her personally, professionally and spiritually.
"Leadership for Mission has made me realise that women have so much more to offer the Church," she said.
"The blend of academic learning, faith sharing and networking has enhanced my confidence that the Church is all the richer for women's contribution, particularly in leadership areas."
She said that her philanthropic movement, called The Waterjars, has also taken on new meaning after completing the Leadership for Mission course.
"I am affirmed that there is God 'aspect' in all the practical elements of work we are doing. For example, in the projects that The Waterjars supported, the need for water to wash is kind of parallel with the need for cleansing the heart of stain due to broken relationships," she explained.
"Understanding the numbers and technicalities of community development project is important, but theology enhances our holistic awareness and work integrity all the more."
Miss Teguhputri said she didn't know if any other Australians would be attending the Economy of Francesco gathering, but hoped to hear from others who have been invited so they could prepare in a spirit of collaboration.