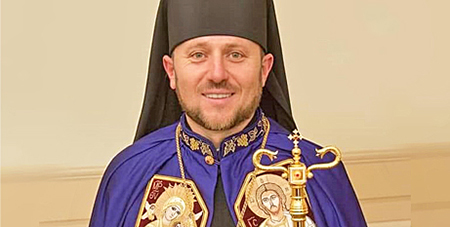 Australia has a new bishop, following the ordination of Bishop Mykola Bychok CSsR as the third Eparch of Sts Peter and Paul in Melbourne for Ukrainian Catholics in Australia and New Zealand.
Major Archbishop Sviatoslav Shevchuk, the head of the Ukrainian Greek Catholic Church, ordained Bishop Bychok on Pentecost Sunday, 7 June, at St George's Cathedral in Lviv, Ukraine.
"We have been looking for a new bishop for Ukrainians in Australia for a long time. We are grateful that, by the power and action of the Holy Spirit, the Lord anointed him today, on Pentecost," Archbishop Shevchuk said.
He thanked Bishop Bychok for coming into full contact with God, opening his heart and allowing himself to be led by the Holy Spirit and wished for the new eparch the ability to enter the culture of Australia and to fill their lives with God's Word.
The Redemptorist bishop told ACBC Media Blog earlier this year that while he had never visited Australia, he has spent time researching the country and the Ukrainian Catholic context, including from brother priests who have served in Australia.
"First of all, I want to be with Ukrainians in Australia, listen to them and grow together as a community of faith in Christ our Redeemer," he explained.
As with other Eastern Catholic Churches with dioceses in Australia, which are in communion with Rome and the Holy Father, the Eparch of Ukrainian Catholics becomes a member of the Australian Catholic Bishops Conference. At age 40, Bishop Bychok is now Australia's youngest bishop.
"To be the youngest member of the Australian Catholic Bishops Conference it is an honour and a responsibility," Bishop Bychok said.
"The Apostle Paul writes to Timothy, a first bishop of Ephesus: 'Let no one despise you for your youth, but set the believers an example in speech, in conduct, in love, in faith, in purity. Until I come, devote yourself to the public reading of Scripture, to exhortation, to teaching.' I want to follow this recommendation of St Paul."
Bishop Bychok succeeds Bishop Peter Stasiuk CSsR, who has served as eparch since 1992. Bishop Stasiuk is currently serving as the eparchy's apostolic administrator until Bishop Bychok is able to relocate to Australia.