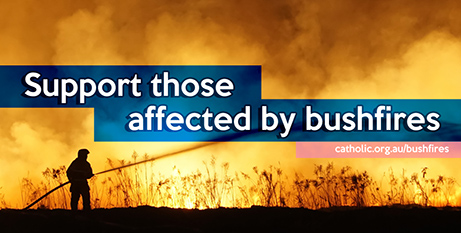 Parishes across Australia will take up special collections at Masses on Australia Day weekend to support people and communities affected by devastating bushfires that have claimed more than 20 lives.
Australian Catholic Bishops Conference president Archbishop Mark Coleridge, in a statement on January 7, spoke of "our powerlessness before the devastating force of nature", while praising the "heroic" efforts of firefighters and the resilience of the affected communities.
But, he said, "we need more than words. Expressions of solidarity are important, but they are not enough".
"The bishops are aware of the huge amount being done around the nation, led by governments and first responders. Many local faith communities, including Catholic parishes and organisations, as well as ecumenical and inter-religious coalitions, are also making a big contribution," Archbishop Coleridge said.
"While the bishops typically respond to challenges at a parish or diocesan level, the scale of this crisis requires a national response from the whole Church to complement and coordinate what is happening locally."
In addition to the special collections on the Australia Day weekend, which will support the Vinnies Bushfire Appeal, the bishops will also facilitate efforts to connect people in need with people who can help meet those needs.
Catholic Social Services Australia has said its national network of agencies has significant representation in many affected communities, with work to support individuals and families under way – but certain to take a long time.
"Our strengths in responding are in areas of trauma-informed counselling and support services, critical incident debriefing, financial counselling and children and family therapies," CSSA chief executive officer Ursula Stephens said.
"For Catholic social services responding to disasters, the efforts are targeted and sustained for weeks, months and years – well after the national spotlight has faded."
National Catholic Education Commission executive director Jacinta Collins said families of students in Catholic schools in affected areas should consider speaking to principals about school fee relief.
Catholic schools and Catholic education offices also have trained counsellors who can help students and their families.
Catholic Religious Australia also pointed out that many members of religious institutes work in rural and remote parts of the country and will look to support affected communities, in partnership with other Catholic agencies.
Archbishop Coleridge said that the practical work to respond to the bushfire crisis "must draw strength from prayer, which inspires concrete and compassionate action".
The Bishops Conference has published prayers for various settings. They can be accessed on the Bishops Conference website.