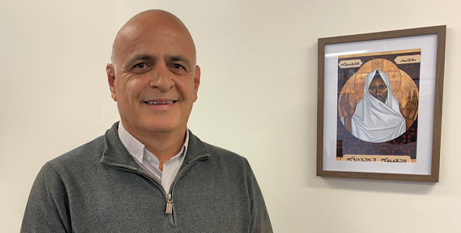 Fr Khalid Marogi, born and raised in Iraq and having served as a priest in Australia for more than two decades, has this week taken up the role as director of the Australian Catholic Migrant and Refugee Office.
Fr Marogi replaces long-time director Fr Maurizio Pettenà CS, who will complete his time with the agency next month.
Among the key tasks of the Australian Catholic Migrant and Refugee Office (ACMRO) is collaboration with dioceses and religious institutes to support visa applications for clergy and religious arriving from overseas.
Fr Marogi, who ministered to the Chaldean Catholic community in Sydney and Melbourne for more than a decade before moving to work in Port Pirie Diocese, has been overseeing that visa process for the regional South Australian diocese in recent years.
He also served as chaplain to the three prisons in Port Pirie Diocese, as well ministry at a Catholic school and within local Aboriginal and Torres Strait Islander communities.
He also started visiting refugee and asylum-seeker families and unaccompanied minors at a South Australian detention centre that reopened during this time in Port Augusta.
Having lived in Iraq during the First Gulf War, one of a small number who stayed at the seminary in Baghdad while bombs rained down, Fr Marogi understands well the issues refugees and asylum-seekers face.
Friends and members of his family were among those who fled Iraq, eventually leading to a visit to Australia in the late 1990s that changed his priestly path, seeing him move to this country.
The ACMRO each year issues a statement and various resources for World Day of Refugees and Migrants, something the Catholic Church has commemorated for more than a century.
Fr Marogi said the Church's approach to people seeking to live in Australia, regardless of their circumstances, is one of care and compassion.
"Whatever the policies might be, and whether the people are genuine refugees or not, the key thing is treating them with dignity and with respect," he said.
In his new role, Fr Marogi also takes on responsibility for clergy life and ministry, working closely with diocesan offices with that focus. Through that work, he will seek to support priests, including priests new to Australia, and the formation of priests at all stages in their ministry.
He said the ACMRO and clergy life and ministry roles have significant overlap.
"It is important for the priests who have come from overseas to understand Australia for their ministry, but it is also important for local priests to welcome and work closely with priests from other countries," he said.
Asked about the changing face of Australian parishes, Fr Marogi agreed that the cultural richness that is evident in the pews is being similarly reflected in clergy and religious – a sign of the Church's universality.
Fr Marogi moved to Canberra to take up the role, leading a team of five at the ACMRO. He will look to resume some of his interests – gardening, soccer, bushwalking and golf – in his new home city.