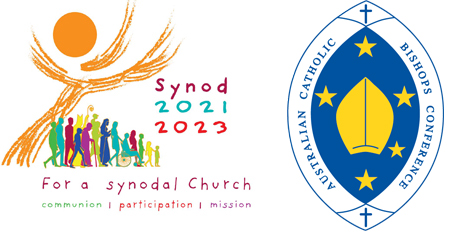 Hundreds of individuals and groups have already made submissions to the local consultation phase of the global Synod of Bishops, but Australian Catholics have three more weeks to share their stories.
In October last year, Pope Francis launched the international journey towards the XVI Ordinary General Assembly of the Synod of Bishops.
The Synod theme is "For a Synodal Church: Communion, Participation and Mission", but has been dubbed by many the "Synod on Synodality" – the process of walking together as Catholics.
Catholics around the world have been invited to take part in local engagement, responding to a series of questions under those themes of communion, participation and mission.
The deadline for online submissions for the diocesan phase in Australia is February 27, when the process of collating reports for each diocese will commence.
Trudy Dantis, the director of the National Centre for Pastoral Research and national coordinator for the Synod of Bishops process, said interest has been steady and appears to be growing.
"This phase of consultation is one that's spanning the country and indeed the world, and everyone's voice is important," she said.
"Some smaller dioceses have seen strong interest, and some age groups are better represented than others, but there is still time to hear from people and include their voices in diocesan reports that will shape Australia's national contribution to this global journey."
Sr Elizabeth Young RSM is the local coordinator for the Synod of Bishops process in Wilcannia-Forbes Diocese in western New South Wales. The diocese has already received a large number of submissions.
Sr Elizabeth believes a key to that success has been inviting groups that already meet for regular prayer or faith formation, as well as those who participated in the Plenary Council's listening and dialogue phase, to consider the Synod questions.
"We explain that it is a similar process to the Plenary Council, but at an international level," she said.
"However, the actual questions are very locally-focused, so they can assist any Church group to reflect on how they live out their faith."
Dr Dantis said the experience of the Plenary Council suggests there will be an influx of submissions in the weeks leading to February 27.
"We encourage people to take time with the questions, the reflection guides and with related resources to prepare their responses," she said.
"We look forward to receiving people's stories of their faith and life, and allowing them to help shape the ongoing journey to the Synod of Bishops in 2023."
Find out more and access the resources at: https://www.catholic.org.au/synodalchurch