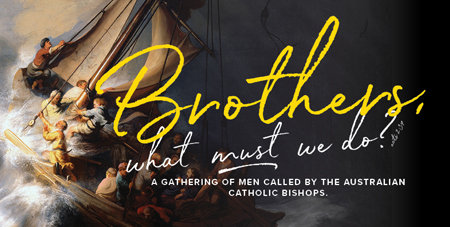 While COVID-19 saw the postponement of the inaugural Australian Catholic Bishops Conference National Catholic Men's Gathering, some aspects of the event will proceed in August using online technology.
The one-day gathering originally scheduled to be held in Sydney next month was postponed in April, with the expectation that a similar program would proceed in July 2021.
"As we saw the success of a range of events that shifted from face-to-face to online delivery, though, we thought it was worth reconsidering our plan to delay the gathering by 12 months," said Hobart Archbishop Julian Porteous, part of the event's planning committee.
"People's comfort with video technology, through the use of platforms like Zoom, has dramatically increased in recent months, so we decided to prepare and provide much of the content we'd planned to deliver in Sydney next month."
In all, four video modules will be posted online on August 15, the feast of the Assumption of the Blessed Virgin Mary, with prayer, music, presentations and follow-up discussion included in each of the modules.
Archbishop Porteous said the revised plan is designed with maximum flexibility in mind.
"We're less interested in saying 'Everyone should come online at a particular time on a particular day' and more interested in creating content that groups of men can access in ways that fit their schedules and other commitments," he said.
"We will make the material available and provide a series of options for the reception of that material."
Robert Falzon, a member of the event's planning committee, said some of the people who had been planning to attending the July event have already talked about how they will use the video resources.
"We know that some men's groups are going to come together on August 15 – with appropriate social distancing – and more or less replicate what would have been the 'live' experience," Mr Falzon said.
"Others might host a day-long event or two half-days, in person or online, with discussion groups after viewing the videos created.
"Others could hold one session a week over four weeks or one session a month over four months, focusing on one module each session. There's no one-size-fits-all approach, which is something the pandemic has forced some of us to understand – if we didn't already."
While the videos will be made freely available on August 15, the planning committee recommends those wishing to stay informed about the virtual gathering and receive other post-event communication register at this link.
Click here to find out more about the National Catholic Men's Gathering.