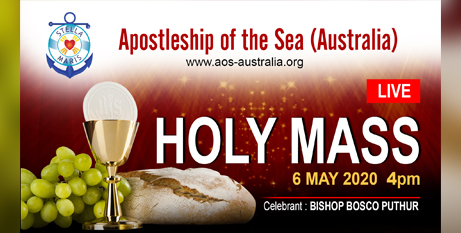 The Catholic community in Australia with responsibility for outreach to those who work on the seas will come together for a live-streamed Mass this week to renew themselves in their ministry.
Bishop Bosco Puthur, the Bishop Promoter for the Apostleship of the Sea Australia, said the distancing protocols in ports across the country caused by COVID-19 have had an impact on people on land and those on board.
"We know that the seafarers who have been unable to disembark when their vessels have docked have struggled with that reality, but our chaplains, managers and volunteers are also suffering from that separation," Bishop Puthur said.
"Our ministry to seafarers is about the human connection and also seeking to make a pastoral and spiritual connection with those whom we serve.
"Like ministry in parishes and other contexts, we've had to adjust to our current circumstances."
Bishop Puthur said the Mass he will celebrate on Wednesday, May 6 is a chance to thank those who are doing their best to continue their ministry of service and companionship in trying times, and also to pray for those they support.
"There has been some suggestion that people working on cargo ships and some other critical ocean vessels may find themselves on board for months on end," he said.
"That drastically changes their own lives, being separated from loved ones for such a long time, so we must pray for their physical and mental health.
"But it also changes how we support them. As Catholics, coming together – even virtually – for Mass allows us to re-focus our efforts around Jesus, whose closeness to those who worked on the water inspires our ministry."
Apostleship of the Sea national director Roslyn Rajasingam said staff and volunteers at the Stella Maris centres around the country are continuing to do what they can to make crews' stops in Australia a bit more comfortable.
"As we do during 'normal times', we're providing various supplies and resources for crews – now communicating via WhatsApp and social media, rather than face to face," she said.
Mrs Rajasingam said while international trade might have slowed somewhat, "so much of our daily lives revolves around goods that arrive from overseas via ships", she said.
"The large crews that serve on board are delivering much-needed supplies. We are called to do what we can to show our gratitude for that often difficult work."
The Mass at 4pm AEST on Wednesday, May 6 will be live-streamed via the Apostleship of the Sea's Facebook and YouTube platforms.