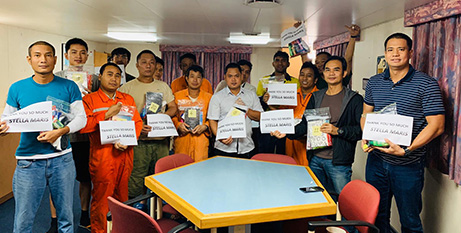 The hospitality they usually offer seafarers can't be delivered on dry land, but the Stella Maris Seafarers Centre in Mackay is ensuring those working on vessels that come into port feel valued and supported.
The centre, which has been offering spiritual, social and material support to seafarers since 1995, had to close its doors on March 20 due to COVID-19 restrictions. It would normally be a lively place for men and women to access wifi, play games, buy souvenirs and other items.
The centre staff also help those who need medical attention to access it.
With some restrictions having eased, staff and volunteers have been able to pack and deliver welfare packs to ships that have docked in Mackay. The packs have included toiletry items, sweets, pens and pads, and socks.
"These packs speak volumes to them that someone is thinking of them, they are not by themselves, and they are not forgotten," said centre manager Peter Cahill, who said more than 1300 packs delivered to 125 vessels have been received with great appreciation.
Mr Cahill said what can often be a difficult and dangerous job – working on the high seas – is made more challenging during COVID-19.
More than 100,000 seafarers worldwide don't have a current contract, he told Good News, the publication of the Diocese of Rockhampton.
"Their contracts are expired, but they are still working on their ships because they cannot come ashore and so cannot get back to their families," Mr Cahill said.
"Even if they could come ashore, they can't fly home."
Apostleship of the Sea national director Roslyn Rajasingam said while the economy has slowed down in a number of areas due to COVID-19, the international movement of goods has largely continued.
"Many of the essential items that have helped Australia work its way through various stages of the pandemic so far are products that arrived here by sea," she said.
"Many working on the seas haven't been able to set foot on dry land for months, and that situation could extend for another 12 to 18 months. Our centres are trying to ensure those men and women feel our love and our prayers."
The Catholic Church in Australia will mark Sea Sunday on July 12. While parishes typically take up special collections for the ministry to seafarers on that day, COVID-19 restrictions mean there is a greater emphasis on online donations.
Visit the Apostleship of the Sea Australia website at www.aos-australia.org for more details and to donate.