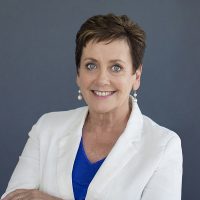 Former New South Wales senator Ursula Stephens will take over as the new CEO of Catholic Social Services Australia on July 1, it was announced this morning.
Bishop Vincent Long Van Nguyen OFM Conv, chair of the Bishops Commission for Social Justice – Mission and Service, this morning welcomed Dr Stephens and, on behalf of the Australian Catholic Bishops Conference, wished her well in the new role.CSSA chair Maria Harries said Dr Stephens was chosen from among a field of high-quality candidates, "which is a testament to the work that Catholic social services providers carry out each day across the country".
"The appointment of Dr Stephens promises to enable CSSA to continue to implement its strategic vision of a fairer, more inclusive Australia," Dr Harries said.
Bishop Long's announcement outlined some of Dr Stephens' achievements in her time representing the Australian Labor Party, including her work advocating for social inclusion policies while in government. Dr Stephens served in the Australian Senate from 2002 to 2014.
Dr Stephens also has experience within the social services sector, in social policy development, government relations and community services more broadly, he explained.
Dr Stephens will replace Fr Frank Brennan SJ, who is leaving CSSA to take on the role of rector at Newman College at the University of Melbourne from next year.
Bishop Long paid tribute to Fr Brennan as someone who "has been an advocate for marginalised and vulnerable people for decades".
Dr Stephens also praised Fr Brennan, saying she looks forward to taking up the task of "supporting the work and commitment of the CSSA members to improve the lives of so many Australians".
"CSSA's advocacy and research work is critically important at a time when governments seek to silence dissent," she said.
"I intend to be a strong voice for those least able to advocate for themselves because of their life circumstances, and the services that support them."
Catholic social service providers operate in more than 650 locations, providing direct support to hundreds of thousands of people in need each year on behalf of the Catholic Church.