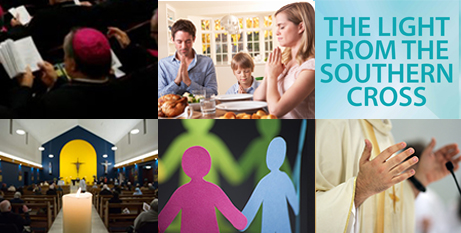 Australia's Catholic bishops will tomorrow open their second plenary meeting of the year under COVID-19 restrictions, with almost 40 bishops and other senior Church figures to gather online.
The Australian Catholic Bishops Conference holds biannual plenary meetings each May and November. The May meeting this year was moved online – the first time such a gathering had not been held in person in the Conference's 54-year history.
"We had hoped back in May, when gathering via videoconference, that we would be able to meet in person by the time of our November meeting," Bishops Conference president Archbishop Mark Coleridge said.
"The second wave in Melbourne, where we had been due to meet, meant a face-to-face plenary was impossible. Our growing familiarity with videoconferencing technology and our May experience mean we are better prepared this time."
Among the items on the bishops' four-day agenda is the establishment of a new national agency with responsibility for all areas of safeguarding and professional standards.
"Building on the excellent work of existing agencies, this consolidation of roles and responsibilities currently carried out by several offices will create a more effective and efficient means of tackling these critical issues," Archbishop Coleridge said.
The new agency is expected to commence its work early in 2021.
The bishops will also review the new National Response Protocol, which will create consistent, survivor-centred practices for investigation of historical and contemporary complaints and allegations of child sexual abuse.
"The development of the Protocol has been complex and thorough, and it has included input from a range of stakeholders, including survivors and their supporters," Archbishop Coleridge said.
"We are confident that the Protocol will allow people with complaints or allegations to see them handled in the same way anywhere within the country and regardless of when or where the abuse is said to have occurred," Archbishop Coleridge said.
COVID-19 – its challenges, changes and opportunities – will be an overarching theme of the week.
"The world and the Church have been changed by the pandemic, perhaps forever. The bishops want to understand that more deeply and ask how we can respond in ways inspired by the Gospel," Archbishop Coleridge said.
Other items on the Bishops Conference's agenda include the review of Church governance The Light from the Southern Cross: Promoting Co-Responsible Governance in the Catholic Church in Australia, the induction and formation of bishops and the formation of men for the priesthood.
"We ask Catholic people around Australia to pray for the bishops as we gather. We will certainly be praying for them in this strange and troubled time," Archbishop Coleridge said.