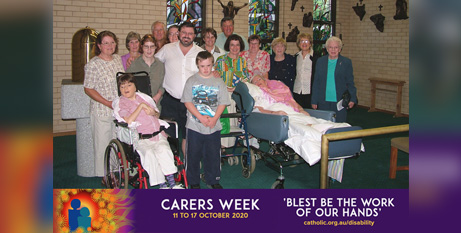 As the country marks National Carers Week, parishes and other Catholic communities are being encouraged to acknowledge and celebrate the role of those who provide unpaid support to people in need.
According to data from 2015, 2.7 million Australians were unpaid carers, offering support to family members and friends who have a disability, mental illness, chronic condition, terminal illness, an alcohol or other drug issue or who are frail aged.
That included more than 270,000 carers under the age of 25.
In a letter to Australian Catholics, Bishop Don Sproxton, the Bishop Delegate for Disability Issues, said carers are "our unsung heroes and are a real presence of Jesus in our communities".
"Parish communities can play a pivotal role in providing support, both spiritually and practically, to carers in their parish communities," Bishop Sproxton wrote.
"We are called to not only celebrate and acknowledge carers but to look for ways to listen to, build relationships with and form networks of support for carers.
"Pope Francis instructs us: 'It means opening the doors and letting Jesus go forth. Many times we keep Jesus closed inside the parishes with us, and we do not go out and we do not let Him leave!' We are encouraged to open the doors of our parishes and open our hearts to carers."
The theme for the Church's celebration of Carers Week is "Blest be the Work of Our Hands". The Disability Projects Office of the Australian Catholic Bishops Conference has prepared a prayer card and other resources to mark the week.
The resources include homily notes, other prayers and suggestions for parish initiatives. There are also tips for carers, including ways in which they can look after their own physical and mental health.
Visit the Disability Projects Office website for more information and to access the Carers Kit.