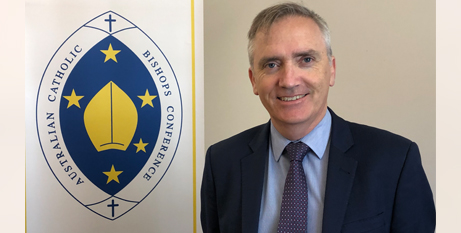 Jeremy Stuparich, who for 10 years has been the Australian Catholic Bishops Conference's public policy director, has been appointed to a new role as the Conference's deputy general secretary.
Mr Stuparich will retain his public policy responsibilities while working closely with the general secretary, Fr Stephen Hackett MSC, in the new role.
Archbishop Mark Coleridge, president of the Bishops Conference, said the role was established following an analysis of the responsibilities of the general secretary, which have grown significantly in recent years.
Given the part-time nature of the new role, staff already working within the Conference were invited to apply for the position.
The role will occupy about half of Mr Stuparich's workload. He will continue to handle the Conference's government relations and oversight of political and social matters, with the Public Policy Office to receive additional resources to assist with other policy and research work.
Archbishop Coleridge said Mr Stuparich has been a major contributor to the work of the Conference and the Church in Australia for many years.
"Jeremy is among the longest-serving staff members in the Conference and someone the bishops know, trust and respect," he said.
"Jeremy has seen significant changes in the life and work of the Conference and understands well our current mission and purpose. He will very capably work with Fr Hackett in a range of important areas which will help the Conference to function even more effectively."
Before joining the Bishops Conference, Mr Stuparich spent some years working for federal Members of Parliament and in the Australian Public Service.
He said he looks forward to taking on the additional responsibilities as part of the Conference's senior leadership.
"The new position will help the general secretary focus on the priorities of the Conference, like ensuring the success of the Plenary Council and progressing the work program of the biannual plenary meetings of bishops," Mr Stuparich said.
"My new role will be to help support the work done by the bishops commissions and their executive secretaries, to foster the ongoing professional development of Conference personnel and to support the improved governance and operations of the Conference."
Mr Stuparich will commence his new role on August 9.