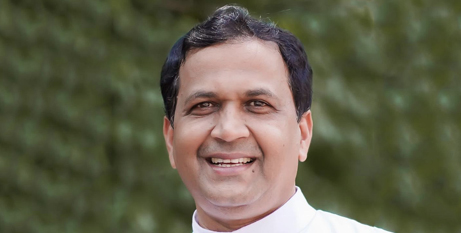 The new chief shepherd of the Syro-Malabar Eparchy in Australia, New Zealand and Oceania says his first priority is to meet with and listen to the faithful, before working together to formulate a pastoral plan for the region.
Bishop John Panamthottathil CMI was ordained the second leader of the Syro-Malabar Eparchy of St Thomas the Apostle in Melbourne last week. He was reflective when asked about the ministry that lay ahead of him.
"The first thing I want to do is go out to the people, to listen to them, to listen to the priests, and just spend some time with them," he said.
"What are their expectations? Without knowing them, how can I know what they want and how can I implement a pastoral plan? I want to visit families, listen to them.
"That is the duty of the bishop, and I plan to do that over these first two years."
He sees such an approach as carrying forward Pope Francis' call for a "synodal" Church, one in which the people walk together – clergy, religious and lay people.
"The Church is not simply about the bishop or the clergy speaking and the lay people listening," Bishop Panamthottathil said.
"When we embrace synodality, everyone has an equal role and clericalism has no role. Lay people have a unique role in the Church and it is my duty to listen to them."
Returning to Australia
While almost all of Bishop Panamthottathil's life has been spent in India, his appointment to Australia is something of a homecoming.
He came to know the clergy of the Archdiocese of Brisbane during his time as provincial superior of the Carmelites of Mary Immaculate. Two Indian priests from the order served in Brisbane during his leadership.
When his term as provincial superior was complete, Bishop Panamthottathil accepted an invitation to serve in the Brisbane Archdiocese, undertaking parish ministry at St Stephen's Cathedral, and later at suburban parishes, from 2015 to 2020.
It was after that assignment, upon returning to India, that he took up a passion: environmental studies.
"I was very impressed by Pope Francis' encyclical, Laudato Si', and I got my inspiration from that," he recalls.
The Carmelites were looking to sell a large coffee and tea plantation, but Bishop Panamthottathil convinced them to keep it, to support the study of botany and zoology by local university students.
A change of plan
As all appeared to be falling into place for that project, little did he know that his name was being considered as the next bishop of the Syro-Malabar Eparchy in Australia.
"Everything was ready, and then I got a call from the cardinal," he says.
Major Archbishop Cardinal George Alencherry, who ordained Bishop Panamthottathil last week, was passing along the news that the process that included votes by members of the Syro-Malabar Synod of Bishops, and consultation with the Dicastery for Eastern Churches and Pope Francis, had led to his selection.
"I never expected this assignment. It was certainly not my will, not my plan," Bishop Panamthottathil said.
"But I had given a promise to obey my superiors, and I have to think this was also the will of God.
"We often have our own desires and plans, but they are not always the will of God."
A growing community
Bishop Panamthottathil will lead a growing Catholic community, with official statistics showing 20 per cent growth between the 2016 and 2021 Censuses.
In Australia, there are 13 Syro-Malabar parishes among a total of 33 missions. There are 13 additional missions in New Zealand, and while there are Syro-Malabar faithful in Oceania, there are no missions established there.
"We would love to be able to do more to minister to our people, but there is a shortage of priests and a shortage of funds," Bishop Panamthottathil explains.
While some other migrant communities see religious adherence wane after a generation or two, Bishop Panamthottathil believes the foundations are in place to buck that trend.
"Our people are deeply involved in their spiritual communities, the parents give their children good formation and catechesis for children each Sunday is compulsory," he said.
"We have youth activities, events for mothers. We maintain the tradition and create the environment for practising the faith."
While he wasn't in Australia during the assemblies of the Fifth Plenary Council of Australia, which helped to highlight the Western and Eastern rites of the Catholic Church, Bishop Panamthottathil looks forward to seeing how they complement each other.
"Whether someone is from the Syro-Malabar Church or the Latin rite, we are all serving the one Catholic Church," he said.
"We have vibrant communities, people are practising their faith – youngsters, children, families – and that is developing the Catholic Church in general.
"We provide a witness to the wider community. The presence of our people is a boost to the Catholic Church."
Care for creation
And although his appointment as bishop derailed his environmental studies in India, Bishop Panamthottathil said he will continue to carry forward his passion for creation.
"We, the Church, have a heavy responsibility to conserve nature and to give a message to the future generations about how to look after nature from a different perspective," he said.
"We need to see the presence of God in nature and participate in God's creation. We have a special responsibility and obligation to pass that message along to young minds."