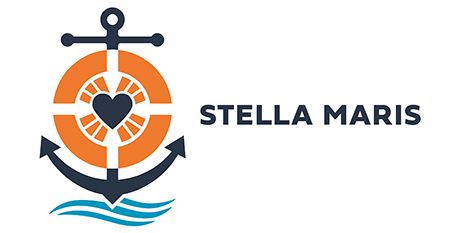 As it celebrates 100 years of global ministry to seafarers, the Apostleship of the Sea is also marking the occasion with the official adoption of the familiar name Stella Maris and launch of a new logo.
Stella Maris, which translates as Star of the Sea, is the name already used for centres around the world from which pastoral care and practical support is delivered – including many Australian ports.
"Our ministry has global reach and impact. Having a unified logo will help us publicise and celebrate the wonderful work being accomplished," said Fr Bruno Ciceri, the Vatican-based international director of the Stella Maris network.
The statement announcing the new name and identity explained that the new logo characterises Stella Maris' mission.
The anchor symbolises hope, the life buoy symbolises faith, the heart symbolises charity, the rays of light symbolise the light of Christ and "the waves of the sea mark the environment for our mission – a source of livelihood for seafarers, but also a reminder of danger and death".
"Accepting and believing in faith, hope and charity leads seafarers and their families to the safe harbour of heaven," the statement says.
To mark the beginning of the centenary year, Archbishop Philip Tartaglia of Glasgow will celebrate a live-streamed Mass this Sunday (1am AEDT Monday, October 5). Glasgow had been due to host the Stella Maris World Congress in October before it was postponed due to COVID-19.
During the course of the network's 100 years, 2020 has proven to be a particularly challenging year for seafarers and those who minister to them.
Crews in most countries have been unable to disembark because of border restrictions. Stella Maris chaplains and volunteers could not welcome crew members to their centres, as they usually do, nor visit them on board. Other initiatives have maintained outreach in new ways, including the delivery of support packs containing essential goods to the ports.
Tens of thousands of people working on the oceans are also doing so without current contracts.
Bishop Bosco Puthur, the Bishop Promoter for Stella Maris in Australia, has advocated on behalf of seafarers and their families in various ways this year, including for the crew of the ill-fated Ruby Princess cruise ship. He also called for the resumption of the search for missing crew members of the Gulf Livestock 1, which was lost at sea in early September.
As reported recently, Australia Post has released a commemorative pre-paid envelope to celebrate the Church's global centenary of ministry to seafarers.
While the international Stella Maris network is marking its centenary, port visits by members of the Society of St Vincent de Paul began in Australia some 30 years earlier.
The new name of Stella Maris and the accompanying logo changes will gradually be rolled out across all centres in Australia.
Click here to find out more about Stella Maris in Australia and to support the ministry.