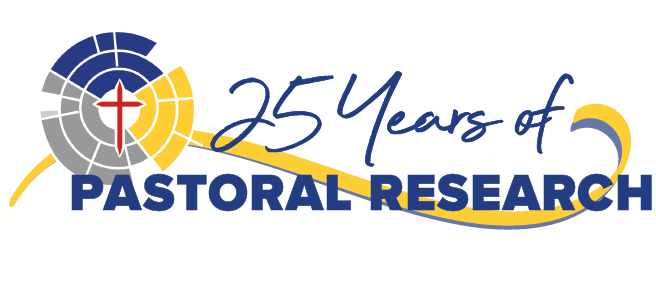 The national agency that conducts surveys and research about the Catholic Church, its members and its ministries has just marked 25 years crunching the data.
Established in 1996 as the Pastoral Projects Office and later named the Pastoral Research Office, the National Centre for Pastoral Research – as it has been known since 2018 – recently celebrated the significant milestone and its history.
The National Centre for Pastoral Research plans and undertakes research to support the mission of the Church and works with Church leaders and the Catholic community to promote the use of research findings in pastoral practice.
It also shares its findings through the publication of book chapters, reports and journal articles, which have numbered in the thousands since 1996.
Professor Gabrielle McMullen, the chair of the Australian Catholic Council for Pastoral Research, said "the nature, quality and relevance of the Centre's work has won it an international reputation for placing the social sciences at the service of the Church".
"With the support of the Australian Catholic Bishops Conference, key Church agencies and the national network of parishes, the NCPR has been able to blaze a trail here and overseas," she said.
"The bishops' backing has been complemented by our two high-quality directors and our talented and devoted staff over these 25 years."
Archbishop Peter A Comensoli, the current Bishop Delegate to the Australian Catholic Council for Pastoral Research, said the Church in Australia is a rarity in terms of the work of a research office.
"While many bishops conferences around the world draw upon research, few – if any – have established their own research centre to help the Church understand its people, its practices and its needs," he said.
"As I've said previously, for us to engage with and minister effectively to the People of God, we must understand the circumstances of the faith communities to which they belong."
Bob Dixon served as the NCPR's founding director, holding that role for more than 20 years. In a reflection on the Centre's work, Dr Dixon said he has "come to think of the work of the office as akin to solving a jigsaw puzzle".
"The overall puzzle is a picture of the Catholic community in Australia in all its dimensions, and each research project contributes another piece that helps us to see the overall picture," he said.
"Unlike actual jigsaw puzzles, however, this puzzle will never be finished, because the picture keeps changing, as do the underlying social conditions of the whole Australian population."
Trudy Dantis, who has worked for the NCPR for many years and as director since 2018, said the varied projects the Centre undertakes keep it at the pastoral forefront of the Church's work.
"Through our ongoing support for the Plenary Council, a new project on remote learning during COVID-19 and the rhythm of Censuses and Mass attendance counts, we are constantly able to reflect and report on the life and mission of the Church," Dr Dantis said.
"We very much look forward to the next quarter-century in the life and ministry of the National Centre for Pastoral Research."