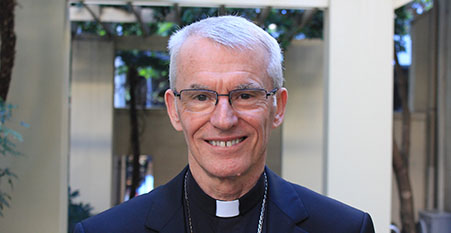 Archbishop Timothy Costelloe SDB says he was honoured to be chosen by Pope Francis as one of nine president-delegates for the sessions of the upcoming Synod on Synodality, calling it a "great privilege".
Archbishop Costelloe, who is president of the Australian Catholic Bishops Conference and has served on the Synod of Bishops' preparatory commission, was one of hundreds of people confirmed on July 7 as participants in the Synod sessions in October this year and October next year.
He was appointed one of the Synod's president-delegates, who take turns presiding over Synod sessions on behalf of the Pope. They are responsible for guiding the work of the Synod and assigning special tasks to certain members, when necessary, so that the assembly proceeds efficiently.
Among the other president-delegates are the head of the Synod of the Coptic Catholic Church, bishops from Mexico, Ecuador, the United States and Mozambique, an Italian priest, a Mexican religious sister and a Japanese consecrated laywoman.
"It is a great privilege to be able to contribute to this process of renewal, under the guiding presence of the Holy Spirit," Archbishop Costelloe said.
"As with the broader membership of the Synod, those invited to assist Pope Francis with presiding represent the global Church and a Church that is welcoming a diverse group of people into positions of influence."
Archbishop Costelloe said the Synod of Synodality "offers the Church a precious opportunity to re-discover an essential dimension of its identity which has become somewhat obscured over the centuries".
"Inspired by Pope Francis' vision of a 'missionary option', the Synod invites us all, as baptised members of the Church, to recognise our common call to form, together, a community of disciples who proclaim the mighty works of God (1 Peter 2:9) by what we say and by what we do: to become, together, signs and bearers of God's love for all people."