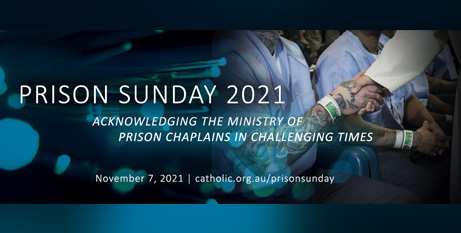 As the Church in Australia prepares for Prison Sunday, Bishop Don Sproxton has thanked prison chaplains for their ongoing pastoral care of prisoners, especially in a time when ministry has been hindered by the pandemic.
Bishop Sproxton, the Bishop Delegate for Prisoners' Pastoral Care, cited the words of Pope Francis in underlining the importance of the work and presence of chaplains.
"The task of a chaplain is to let the prisoners know that the Lord is inside them," Pope Francis wrote.
"No cell is so isolated that it can keep the Lord out. He is there. He cries with them, works with them, hopes with them. His paternal and maternal love arrives everywhere."
Bishop Sproxton said while some chaplains were designated as essential workers and could continue to visit prisons, others have seen in-person contact prohibited.
As in other parts of the Church's ministry, those restrictions have prompted creativity in responding to prisoners' needs.
"I am pleased to hear that in some jurisdictions, video access has enabled some centres which have been previously deprived of chaplaincy services, to access a chaplain remotely, leading to quality conversations and remote pastoral care especially at times of death in families," Bishop Sproxton wrote.
"I commend you for using such opportunities to 'be there' through new forms of technology and by necessity having to reflect on what it means to be present in the digital world.
"The environment in which you perform chaplaincy alters the interactions with people. We might find ourselves asking, how is it possible to 'attend' when one cannot be 'present'?"
Prison Sunday this year will be celebrated on November 7, the 32nd Sunday in Ordinary Time in the Church's liturgical year. The Gospel of the day is the story of the generosity of the poor widow, who gives in humility.
"She gives from the heart without counting the cost," Bishop Sproxton said in his letter.
"The ministry to those in prison starts from the standpoint of humility, not from superiority. Jesus came as a slave, as one who served, and who knew the power of being with a person. It is the gift of Chaplains and Pastoral Workers in our prisons to be with the prisoners, to listen attentively from the heart, and to share experiences together.
"Christ can become present, despite the walls, through this dialogue and can continue to live in the hearts of those who are not free. This is giving from our poverty. This is love."
Access resources for Prison Sunday, including a prayer for chaplains and liturgical resources, at: www.catholic.org.au/prisonsunday