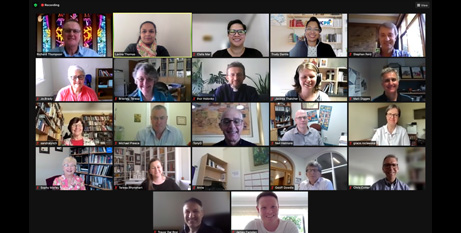 Representatives of Australian dioceses have gathered online to consider how to support local engagement with the global process leading to the 2023 Synod of Bishops in Rome.
On October 17, dioceses across the world hosted celebrations to launch the journey towards the XVI Ordinary General Assembly of the Synod of Bishops.
A week earlier, Pope Francis had officially opened the Synod, which has the theme "For a Synodal Church: Communion, Participation and Mission".
The Synod process has local, national and international components that will unfold between October 2021 and October 2023.
While there is national coordination to allow for central support for local processes, dioceses are responsible for the period of consultation planned to run until the end of February 2022.
The gathering of local coordinators last week was designed to help dioceses share their insights and determine how they can best invite the People of God to take part in the consultation.
That included hearing from dioceses that have held local synods or assemblies in recent months while also engaging with the Fifth Plenary Council of Australia and now the global Synod of Bishops.
Sophy Morley from the Diocese of Sale was among the presenters at last week's online forum, and is also a member of the Synod of Bishops national committee.
She said that for parts of the country that have suffered through extended lockdowns, including the suspension of communal worship and fellowship, the invitation to participate will need to be gentle.
"It might start with bringing people together to renew friendships or make new ones, and use that informal setting to ask one or two of the Synod's questions," Mrs Morley suggested.
"We do have some helpful systems that were established for the Plenary Council that might also allow the Synod of Bishops consultation to unfold smoothly.
"Indeed, the Plenary Council has introduced many people to the Synod's idea of 'walking together' through prayer, listening, dialogue and discernment."
Last weekend, the Holy See announced the extension of the consultation period for dioceses around the world.
Trudy Dantis, the director of the National Centre for Pastoral Research and national coordinator for the Synod of Bishops process, said the Australian Catholic Bishops Conference will consider at their biannual plenary meeting next week how that change will be incorporated into the national plan.
"The bishops will need to think about how the Synod of Bishops journey and the Plenary Council journey through 2022," Dr Dantis said.
"There is considerable overlap, but it is important that neither process is overshadowed by the other and each can receive the attention and resources it needs."
Dr Dantis encouraged people to learn about and get involved with the Synod of Bishops process.
Find out more about the Synod of Bishops process at: www.catholic.org.au/synodalchurch