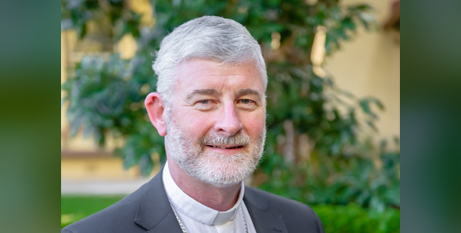 Sandhurst Bishop Shane Mackinlay has been appointed the new co-chair of the Methodist-Roman Catholic International Commission as the group prepares for a new round of dialogue set to begin in October.
Bishop Mackinlay, who joined the Commission during its previous term, said it was an "honour" to have the Vatican's Dicastery for Promoting Christian Unity name him Catholic co-chair of the body, which was established in 1967.
He will share the leadership with Professor Edgardo Colon-Emeric, dean of the Divinity School at Duke University in North Carolina, whom the World Methodist Council appointed the Commission's Methodist co-chair.
"Jesus prayed that his followers might be one, and responding to this is a foundational part of our Christian calling," Bishop Mackinlay said.
"After centuries of distrust and misunderstanding between different denominations, it is very encouraging to witness the great progress over the last fifty years in engagement, friendship and shared mission."
Fr Gerard Kelly, a priest of the Archdiocese of Sydney, is also a member of the Commission. Revd Glen O'Brien, a minister of the Uniting Church of Australia, is one of the new Methodist members of the Commission.
In a communique from the Dicastery for Promoting Christian Unity, it was announced that the working title of the new round of dialogue will be "That the World May Believe: Models of Unity in Belief and Mission".
The commission hopes to examine the inter-related themes of mission and unity in faith.
"As the Church is commissioned to take the gospel to the ends [of the] world, it is constantly encountering new contexts and cultures which ask new questions of the data of faith," the communique said.
Bishop Mackinlay said from a Catholic context, that will include discussion around the Church's increasing commitment to synodality, expressed in Australia through the Plenary Council and globally through the Synod of Bishops on Synodality.