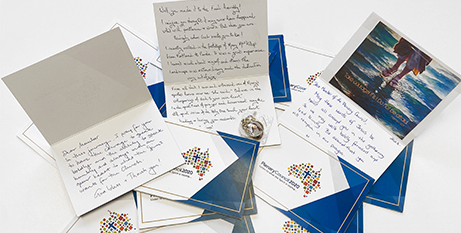 People from across the country are sharing their hopes and their prayers with the 277 Members of the Fifth Plenary Council of Australia who will gather in Sydney for the second and final assembly next week.
When the Council Members arrive for the assembly, cards handwritten by Catholics will be included in their welcome packs.
"This has been a journey surrounded by the voices and prayers of the entire Catholic community, and these cards are a way of bringing that voice into the second assembly," said Plenary Council president Archbishop Timothy Costelloe SDB.
"We are deeply grateful for and moved by the deep sharing that has taken place and we will all carry these messages with us during the assembly."
Sr Marion Gambin RSJ, the Plenary Council's Acting Facilitator, said there has been a concerted effort to capture and live out the national significance of this event.
"The Local Coordinators Network, which has been a powerhouse during this four-year journey, has managed this campaign to have people sign and send in the cards," she said.
"There remains a great longing in the Church in Australia for a successful conclusion to this Plenary Council and that is expressed through the messages we have received in these cards."
Other messages will also be shared with Members during the week. A portal has been set up on the home page of the Plenary Council website to allow people to send a message to the assembly, with those messages to be posted to a wall-sized version of the Council logo.
Excerpts from the Listening and Dialogue stage of the Council have been printed on the logo's squares, sharing people's answers to the question "What do you think God is asking of us in Australia at this time?"
New messages will be added to the wall across the week.
Find out more about the Plenary Council and follow the second assembly at: www.plenarycouncil.catholic.org.au