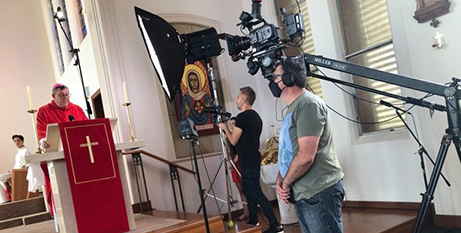 The commitment to sustaining the faith of those unable to attend Mass and the generosity of Catholic individuals, families and organisations means Mass for You at Home will continue in 2022.
The Diocese of Wollongong, which took over production of Mass for You at Home in April, and the Australian Catholic Bishops Conference recently confirmed the plan to ensure the ministry remains on free-to-air television, as well as being accessible online and on pay television.
"When the Diocese of Wollongong and the Bishops Conference inherited this responsibility from the Archdiocese of Melbourne, we believed there remained a need to support people who rely on Mass on their television screens to receive spiritual nourishment," Wollongong Bishop Brian Mascord said.
"That belief has proven true, and it has been expressed in letters, emails, social media posts and phone calls. It has also been shown in your generosity through financial gifts."
A national fundraising program was launched in April, inviting support for the significant cost of broadcasting and producing Mass for you at Home.
In addition to the ongoing and critical financial support from Catholic Mission, which has been Mass for You at Home's principal partner for many years, Catholic dioceses and religious orders have been significant contributors to the project.
"What we didn't fully understand was the impact Mass for You at Home was having in people's lives and how that impact might be lived out through donations of all sizes," Bishop Mascord said.
"Whether a few dollars or thousands of dollars, each gift is greatly appreciated and we pray regularly in thanksgiving for the individuals and groups that have helped ensure our long history continues."
Bishop Mascord said while not a geographical community like a parish, there is certainly a growing sense of community – "and even family" – among the Mass for You at Home viewers and supporters.
Earlier this year, the ministry marked 50 years on Australian television, supporting the housebound, those in prison or in hospital, those in remote Australia and who for other reasons could not attend Mass in their local parish.
Bishop Mascord said while the future for 2022 is now secure, and sustainable funding sources are being explored, the ongoing generosity of the Mass for You at Home community will be necessary to keep the ministry on air.
"We are deeply grateful for all the gifts that people have offered. Our promise is to continue to give our all to this ministry and bring Jesus into people's homes when they can't come to meet him at church," he said.
Find out more at www.massforyou.com.au