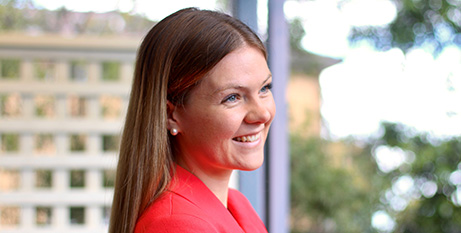 Adelaide's Madeline Forde has been appointed to the international youth advisory body established by the Vatican's Dicastery for Laity, Family and Life.
Ms Forde has experience in a variety of settings, including Marist and Lasallian youth ministries, school and young adults ministry, and walking alongside First Nations people. She is currently the pastoral associate (students) at Australian Catholic University's Blacktown campus.
The 25-year-old has facilitated national dialogue between young people and bishops at the Australian Catholic Youth Festival and is also a member of the Plenary Council for the Archdiocese of Adelaide.
"I was surprised when contacted by the Dicastery and humbled by the invitation to be a part of the international youth advisory body," Ms Forde said.
Archbishop of Adelaide Patrick O'Regan expressed his joy at Ms Forde's appointment.
"Madeline is a valued member of our community," he said.
"She is energetic, has a preferential option to stand with the marginalised and is a strong young woman of faith. She will make an invaluable contribution as she takes on this role."
The final document of the 2018 Synod of Bishops on Young People, the Faith and Vocational Discernment recommended the establishment of an international youth advisory body. The Dicastery for Laity, Family and Life established the body in 2019 and it recently gathered in Rome for the launch of the next Synod of Bishops, on the topic of synodality.
Ashleigh Donnelly was appointed as an inaugural member from Australia after playing a key role in the development of the 2018 Synod process. She stood down from the Council in early 2021.
Bishop Columba Macbeth-Green OSPPE, Bishop Delegate for Youth, thanked Mrs Donnelly for her contribution and welcomed Ms Forde's appointment.
"The Australian bishops are grateful to Ashleigh for her work to advocate for young people and raise their views in such a unique forum," Bishop Macbeth-Green said.
"I have appreciated Ashleigh's willingness to speak and share her understanding of the Synod on Young People and Pope Francis' exhortation, Christus Vivit, in communities around Australia.
"I am excited to hear of Madeline's appointment and look forward to continue working with her on our Plenary Council journey."
Ms Forde recently met with Mrs Donnelly to discuss the work of the advisory body.
"I thank Ashleigh for her work in creating a space for young people. I am excited to meet with other members from around the world to speak openly about the realities of young people, continuing to deeply listen to their stories and their views of today's world," Ms Forde said.